Newsroom technology that journalists want and businesses need
Welcome to Superdesk, your multimedia, digital newsroom.
Check in on sports and see what your reporters and photographers are filing now. Cast your eye over news, or features, and see which trending topics have been covered by Reuters, AFP or whichever feeds you subscribe to. (In Superdesk, you can even turn emails sent by regular sources, such as the police or fire services, into an newsroom automation "feed".)
Consult with your news editor and review the news lists and running orders. Check out the latest data project to emerge from your finance team. This isn't a physical newsroom, it's the digital expression of one, so you do all of this from your chair. Your world news editor can be on the other side of the planet and yet still be at their desk pitching you a story for the lead. Superdesk is for journalists who like their workflows done their way. It's for journalists who have always wanted the ability to alter their work in order to respond to breaking news, without having to fill out IT change requests. Need a new desk on the fly for an election or special event? No problem! With Superdesk, you can set one up yourself and define a unique workflow for it. Are your production editors asking for changes about what information they see in workspaces? Good - because in Superdesk every journalist can create their own, custom workspaces. Personal dictionaries for every journalist? Absolutely. If journalists could code, this is what they would write. We know this because we work with them to develop Superdesk.
True to our motto "made by journalists, for journalists", we regularly place our team in our clients' newsrooms. Working side by side, they effectively translate this experience into Superdesk's product design. The best innovators know their environment by heart before designing features. This is how we like to work, and this is how we shape Superdesk.

Renat Isch

Sourcefabric Business Development Manager



Technology built with an eye to evolution, not obsolescence
Superdesk is an end-to-end content creation, production, curation, distribution and publishing newsroom software. It scales to any size and is also modular, so if some of your legacy tools are doing a good job you can keep using them. Superdesk is an integrator, not a dictator.
We develop modules for Superdesk as media channels evolve and converge, and new ones emerge, in anticipation of your audience's inevitable migration to them. Your content teams, though, won't have to learn new tricks every time a disruptive app appears: Superdesk technology can COPE (that's Create Once, Publish Everywhere), so your journalists will use the same creation tools and interfaces regardless of output.
Flexible and communicative
Superdesk's ability to integrate with and talk to third-party newsroom software and legacy systems comes via a comprehensive array of APIs. Its data/content APIs enable users to invent products and services based on easy access to media resources contained in Superdesk-linked repositories. Superdesk content is supplied in structured formats widely used by apps written for Android or iOS mobile phones and tablets.
Superdesk APIs, then, are how we ensure that we can make the most of your existing technology with minimal cost. Through them, we can enable your editorial and business teams to innovate, build and release products tailored for new platforms to keep your content in front of increasingly sophisticated digital consumers.
Open source, managed for business
Superdesk is developed with commercial media partners and independent contributors as an open-source newsroom CMS. There is no licence fee nor a vendor tie-in. You are not bound to any software development house.
The business benefits of open-source software - such as zero licensing costs, transparency, flexibility, speed of innovation - are easily understood, especially when compared with proprietary code, which is stumped on those counts.
It is to be expected, then, that some commercial software vendors make much of a perceived risk in open source: that its collaborative, sometimes almost "crowd-sourced" nature allows potential for projects to take tangential turns in direction or for some components to morph beyond compatibility with others that depend on them.
This is a good argument against building mission-critical software from niche, hobbyist or ephemeral component technologies. The reassuring reality of mainstream open-source projects today, however, is that they are backed by such tech titans as Google, Microsoft, Apple, Amazon, Oracle and Facebook. Adopting software built on a well-chosen open-source technology stack is a rock-solid business decision.
Sourcefabric is Europe's largest open-source software house serving the news media industry and digital journalism. It manages the integration of upgrades for Superdesk components, all of which are mainstream technologies in widespread commercial use across many sectors.
Promoting news industry standards
Sourcefabric is an associate member of the International Press and Telecommunications Council, which defines industry-wide technology standards and protocols for describing and classifying news content. The IPTC's stated mission is to "simplify the distribution of information".
Technical standards developed and promoted by the IPTC ensure efficient information exchange, storage, interrogation and retrieval across diverse platforms by employing well-defined structured data and metadata schemas.
We believe that as the industry continues to fragment, on both the consumer side and the providers themselves, the only way to thrive is to adopt an Agile-developed, open-source model like Superdesk.

Sava Tatić

Superdesk Product Owner and Sourcefabric Managing Director



Technologies employed in Superdesk
Superdesk, at its core, is a server written in Python using the Flask microframework with ReSTful APIs developed in Python-Eve. MongoDB is the main storage, searched/indexed by Elasticsearch. Client-side, it's an AngularJS single-page application and the UI uses some React components. Tasks and messaging use Celery and RabbitMQ. Superdesk is maintained on GitHub, where you may examine all the technologies/dependencies of the full stack. Superdesk is licensed under the GNU AGPL version 3.
Interested in developing for Sourcefabric?
We like to hear from developers interested in what we do, and Superdesk is just part of that. Much of our work is pro bono and tailored for use by independent media and community groups in the developing world or post-conflict countries and regions.
Visit the main Sourcefabric site and check out our Media dev projects, our Software portfolio and our Jobs section.
Superdesk is more than a news management system, it is an open-source project and as such, the people around it is what makes Superdesk a great choice. We develop Superdesk by working closely with our users and interacting with our partners. Everybody benefits from someone else's contributions.

Holman Romero

Chief Technology Officer, Sourcefabric



An Open-Source Headless CMS + News Management System
Superdesk is a extensible stack of open source code made to serve independent journalism and newsrooms of all sizes by improving newsroom management and publishing processes. Learn more about the open-source philosophy behind Superdesk.
The History of Our Digital Newsroom
Impact of Superdesk
Superdesk had its first public release in spring 2016. Since then, its impact has grown rapidly. Today our digital newsroom software powers the editorial operations of national news agencies as well as smaller publishers. In total, more than 80 million people around the world read news and information published by Superdesk each month.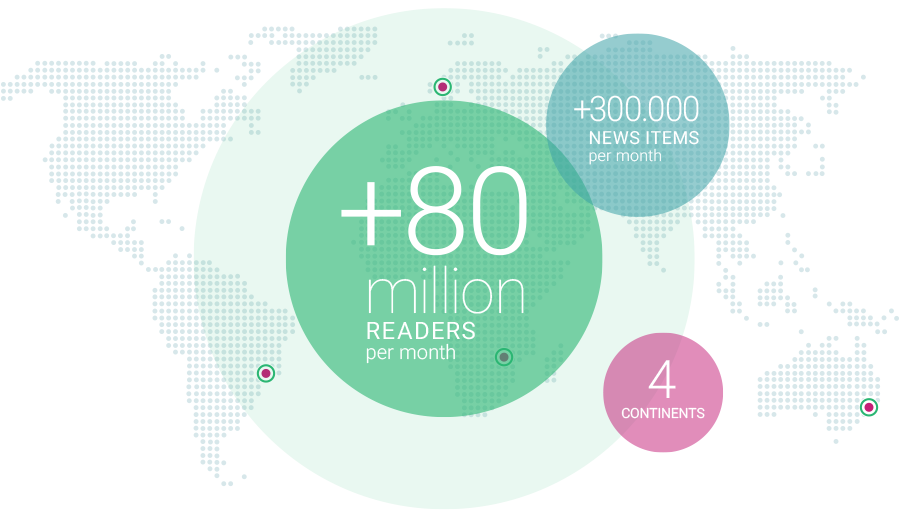 About Sourcefabric
Sourcefabric is Europe's largest developer of open source tools for news media. Headquartered in Prague, Czech Republic, Sourcefabric is composed of approximately 50 team members located across the globe in 14 countries with office locations in Prague and Toronto.
Through Sourcefabric z.ú. and its daughter companies, we work with some of the most prestigious news organisations around the world including news agencies, online-only and multi-channel newspapers, radio stations, self-publishing and print-on-demand service providers, as well as international NGOs.
Founded in 2010, Sourcefabric powers quality, digital journalism worldwide through software development and services. Our mission is to make professional-grade technology available to all who believe that quality journalism has a fundamental role to play in any healthy society.
Our clients
Sourcefabric powers media organisations and publishers around the world, from national news agencies to small and independent media organisations