WordPress, Meet Superdesk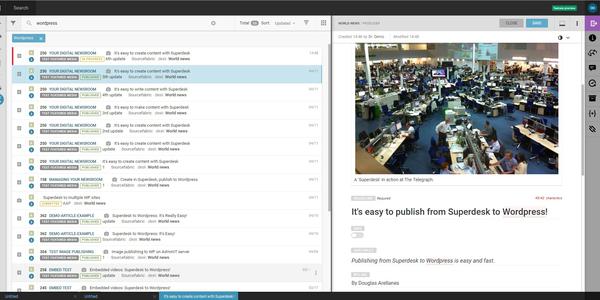 If the internet had its own CMS, it would be WordPress. Bloggers, professional news outlets and lots of people and organisations in between all use the service to publish their content online. By its own count, WordPress runs 27% of the internet.

Why is it so popular? WordPress is free (for the basic version), reliable, open source and user-friendly. It's also easy to customise, with a variety of themes, design options and plugins: more than 49,000 in all.

Announcing the Superdesk Publisher Plugin for WordPress

Now, thanks to a development partnership with The European Journalism Centre and financial news outlet The Source, Superdesk can publish to WordPress via the new Superdesk Publisher plugin. Newly released, we're excited about what these two publishing powerhouses can do together.

"It made a lot of sense to come up with something that built on the strengths of WordPress, which are variety and multiplicity of themes, as well as being easy to install and maintain, with a big ecosystem of designers and developers around it," says Douglas Arellanes, Sourcefabric's head of innovation, who's been leading the project. "This plugin is a great way for us to enhance what WordPress already does well by adding the strengths of Superdesk."
The main feature that Superdesk offers to WordPress is a professional authoring environment. Workflows can be set up, teams can be organized into different groups and article bylines can be displayed or hidden. It's also easy to search, find and reuse content with the ability to classify content, because Superdesk feeds Wordpress metadata which can be used as categories, tags or both.
A Better Way to Do Multichannel Publishing

The overall idea is for Superdesk to remain a hub for authoring content that the plugin then sends to be published through WordPress. A single instance of Superdesk newsroom software can be used in this way to publish through multiple WordPress instances, similar to a content feed. "This will be really interesting for a media organisation such as a news agency with a family of websites or chain of newspapers," says Arellanes. "Each of the different cities in a chain of newspapers could have their own desk in Superdesk, and the combined content comes out on their own website."

This is also beneficial to the many news organisations which have already invested resources in building out their WordPress sites. The plugin gives them the potential of having Superdesk's functionality without having to redo anything in their own environments.

The first organisation to start publishing with the Superdesk Publisher plugin for WordPress is The Source, a financial news service based in Harare, Zimbabwe. Our goal is for many others to follow suit.

If you're interested in trying the WordPress Superdesk Publisher plugin for yourself, it's a fast and easy process. Get started by heading over to Github and downloading the zip file. Then upload it from the plugins section of your WordPress site. (Get more detailed instructions from our wiki, or watch the video below)
And if you'd like a demo of Superdesk itself, just drop a line to contact@sourcefabric.org.