What's New in Superdesk: December 2017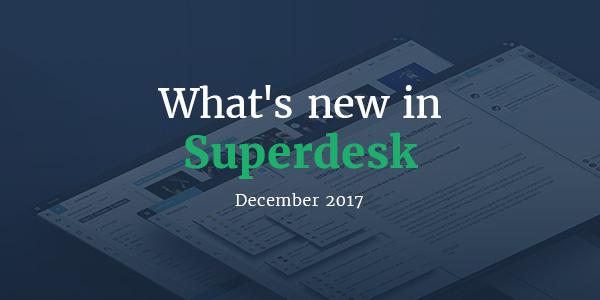 Internal routing
In certain cases, stories that are published by a particular desk need to be made available to another desk. Think of a particular translation workflow where after stories are created in the main language, they need to be made available to translation desks for, well, translation purposes.
Up until now, desk staff were able to share stories with other desks by sending news items to a destination desk or by marking/flagging news items to one or more desks, but this worked only for production content.
With the new Internal Routing feature, the newsroom can define rules (using content filters) to make news items available from one desk to others upon publishing.

Metadata management (Custom content and metadata fields)
Superdesk allows the newsroom to define custom content models to represent precisely the content to be produced.
Content profiles, already a feature in Superdesk, have been enhanced by empowering the newsroom to define custom metadata. It is now possible to create custom controlled vocabularies, custom text fields, custom media fields and custom embed fields. And all of this is done via the administration interface, allowing privileged users to easily create tailored content profiles that best suit the newsroom's needs.
Text annotations
Reporters and editors can now collaborate more closely and efficiently by making use of text annotations. Users only need to select the relevant text, select the annotation type and enter the annotation text. Annotations are aimed to be published to provide context or additional information on the news story. Factboxes, footnotes and jargon busters are good examples of what users can now build using this new feature that is part of the Superdesk text editor.
File attachments
Often journalists need to keep a set of files associated with a story. Now, it is possible in Superdesk to attach binary files to news items. When a news item is published to the Superdesk Content API or transmitted via HTTP Push, Superdesk includes the associated files in a new "attachments" property part of the delivered ninjs object. For each attached file, users can enter a title and a description.
Compare versions
Journalists now have the option to pick two different versions of the same story and compare them side by side. Superdesk highlights the differences between them so it is easier for the journalist to focus on the changes.
Time to read
Time to read has become a common element on modern news sites. When a user writes a story, Superdesk calculates and displays the time to read to the journalist, in the same way as it provides word and character count. Superdesk uses a well-known formula by Medium ( to do this. Time to read is made available in published ninjs objects using the new "readtime" property.
Improved item history
More actions performed on news items are now recorded and shown within the item history.
Author management
Frequently, news publishers make author profiles available to readers. This is now handled in Superdesk via User Management. Users can be marked as authors, which extends the standard user profile to allow administrators to enter information like Job Title, Bio, etc.
Want to stay up to date on the latest features and developments in Superdesk? Sign up for our newsletter and be the first to know.