3 Key Principles Behind the Superdesk UI
What if your newsroom software wasn't just a functional tool, but was also visually appealing and enjoyable to use?

Most newsroom computer systems don't offer much in the way of aesthetics or user experience. We decided that our digital newsroom software would be different.
Superdesk was built with input from our design team from the very start. The goal was to create a newsroom CMS that users enjoy working in, because it is clean, simple and intuitive to use.

As we developed our digital newsroom software in partnership with our pilot client Australian Associated Press (AAP), three key user experience principles informed many of the design decisions. Focus, efficiency and flexibility are fundamental to the way Superdesk combines enterprise-scale newsroom management features on the back end with an intuitive, elegant interface on the front end. How does this work? Let's take a look at each principle in turn.


Principle 1: Focus
The idea behind the editorial environment in Superdesk is to invite users to sit down at an uncluttered desk with a blank sheet of paper. From there, reporters can decide how to set up their individual workspace, and what they want to see around them as they draft stories. Information such as the article metadata or a view of other stories in the newsroom workflow can be shown or hidden as the user decides. "A lot of the inspiration here came from applications for visual design," says Sourcefabric head of design Vladimir Stefanović. "If you look at Photoshop or InDesign, you'll see there are a lot of features and options, but you can still put things to the side and focus on what you're designing. We had the same goal in Superdesk: to be able to present a lot of information on one page without too much visual noise."

Good design is often about taking things away rather than adding them. That was also the case when it came to modeling the workflow of an actual newsroom in Superdesk. Spending time at AAP's headquarters in Sydney was a turning point for the design team. "The production volume was much greater than we thought - something like 2,000 stories per day," says Stefanović. "When we saw how quickly they needed to go between opening an incoming article and moving to the next step of the workflow, this changed the user interface quite a bit." The Monitoring view in Superdesk today was the result of the effort to streamline the existing workflow through Superdesk and make the lives of journalists and managing editors easier.


Principle 2: Efficiency
Given the production volume of AAP's newsroom (and the newsrooms of most news agencies today), it was crucial to help users to work faster and more efficiently. "We decided to make use of keyboard shortcuts, macros, and any other way of finalising processes with as few clicks as possible," says Stefanović. An additional requirement was that Superdesk needed not just to replace one legacy CMS for AAP but to consolidate several of its existing newsroom applications. One part of the solution was to contain everything on one screen but split up the main workspace into two or three vertical panes that could be toggled on or off. "We changed the interface to be more flexible, so for instance, you can completely minimise the editor so that you see incoming content from other stages of the newsroom's workflow," he adds. Other improvements that help users work faster include the ability to collect information from different workflow stages in personal workspaces, and also create saved searches.


Principle 3: Flexibility
Superdesk got its name from the idea of creating a digital environment based on newsroom desks that correspond to news coverage areas such as sports, politics or business. But the initial concept of desks turned out to be more linear than the way actual newsrooms work. "We imagined everyone in the newsroom would be assigned to one desk team or would have only one role, but in reality you have people assigned to multiple desks and different roles. Everyone is doing a bit of everything - during the week, they might be working as reporters, and then working as editors on the weekend," observes Stefanović. To encompass that complexity, the Superdesk UI had to become as flexible as possible, both in the design of the interface as well as through the functionality on the back end.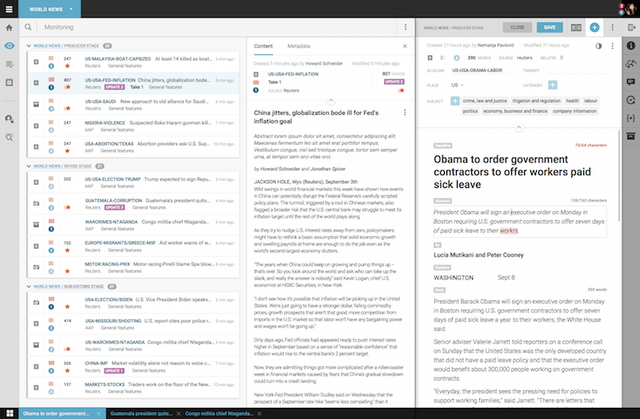 And there was an additional element to the challenge. With AAP as our pilot partner, we needed to build newsroom software that would meet their particular needs in the present while remaining flexible enough to work for other clients in the future. "For example, AAP only needed a simple text editor at the start, but we knew that a more visual editor with additional formatting options would be useful for other clients or for them in the future so we invested time in developing that as well," Stefanović says.


A foundation for the future
Today Superdesk is not just an idea for more powerful newsroom software that also provides a better user experience. It is a functional application running news agency operations around the world. It continues to be developed and refined with new clients. As it evolves in response to their requirements and the changing conditions of the news industry as a whole, the foundation of those three principles of focus, efficiency and flexibility will remain.

What can Superdesk do for your newsroom? Contact us to get a demo.