Superdesk Editor: Smart Tools to Spoil Journalists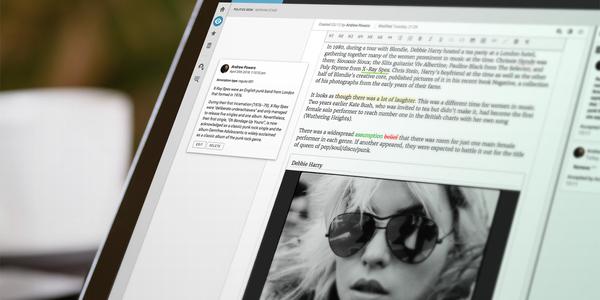 Suggesting Edits
The text editor is the journalist's most-used newsroom tool, but it's increasingly being pulled in different directions to do different jobs. This difference is speed: am I producing hard news against the clock - where breaking stories fast gives your media outlet a first-mover advantage - or am I writing a long-form, reflective piece for which I'll solicit input from colleagues and researchers?
Naturally, most newsrooms will expect routinely to work both scenarios. My rewritten Reuters wire copy will take care of today's courtroom news from the Bill Cosby hearings, but I'll also work on an in-depth feature piece for next week considering the broader, social and societal implications of the #MeToo movement in cultural and professional life.
In the case of my breaking news, I want to grab the facts and any useful available media, enter content into my headline, body text and description fields, and move on to the next story. (Actually, I would probably want to check that I have all the metadata I need, but much of that would have come across in the Reuters schema, and further metadata can be applied during workflow, automatically or manually.)
The Superdesk Editor.
Free of Redundant Buttons
As a journalist producing hard news, I want as few choices as possible in my editing toolbar, and I want action buttons for only functions I use. I want a spell-checker, minimal formatting and a button to send my article for revision, or maybe publish it - depending on how flat my newsroom's workflow has become.
By contrast, when I start in on creating my 30-minute read about #MeToo, sexual harassment in the workplace and unequal power relationships, I am going to have some time to think, and to do some research.
Collaborative Editing
I may or may not want to sprinkle in a few embeds, or formatting allowable beyond bold, italic, underscore and strikethrough. And I want interactive commenting around the article as it's being written; a conversation with my editor and with our researcher. I want to be able to suggest edits and resolve them with my colleagues (who will, of course, receive email notifications from the system when input is requested). Also, as icing on the cake, I want to include jargon-busting annotations for my text to explain important background information or technical details to the end users.
Suggesting Edits
Can a text editor be all things to all writers? Probably not, but with design intelligent enough to allow fine-grained configuration, journalists can be presented with only what they need to tackle the specific job at hand. Superdesk journalists are spoilt for tools, but not spoilt for choice or distracted by needless clutter.