How Superdesk Publisher 2.1 Can Boost Digital Publishing Success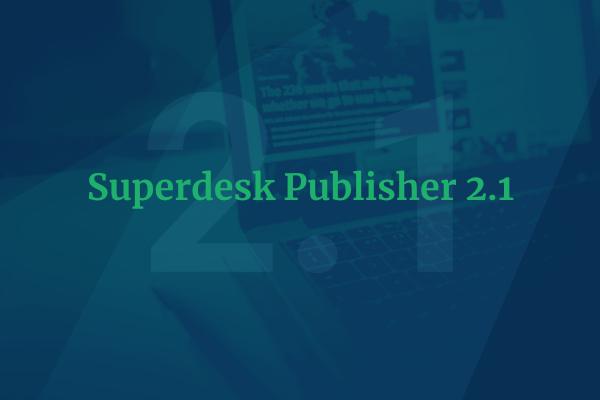 The latest release of Superdesk Publisher offers several key features to increase your digital publishing success in today's platform-driven content marketplace.
Superdesk Publisher was made to be mobile-forward, and already offered built-in integration with Facebook Instant Articles. Now, in release 2.1, publishers can also set up an integration with Apple News. Both are done in the same way, by configuring APIs to those third-party platforms, and setting up the content lists in Superdesk Publisher which act as rules to automatically determine what articles get published, when.
Analytics are another function that is becoming more important to digital publishers. Knowing what gets clicked and shared helps editors and writers produce more relevant content for their audience. Business and advertising staff can use that information to tailor their revenue strategy. Release 2.1 offers the ability to create reports based on page views: by category, by author, over a certain time frame or simply by the most-viewed articles.
Content lists are the basis for how Superdesk Publisher organises content on the front end. These lists can include the "most shared" or "most read" article boxes that are standard on most websites. In Superdesk Publisher, content lists are flexible. You can set up content lists manually, or you can generate them automatically. Content lists can be created automatically using logic rules, list criteria and now, also using custom vocabularies such as specific topics or article types (such as interviews, investigations, etc.) or any other kind of metadata, or by language. More on languages below.
Superdesk Publisher is the native "head" designed for publishing with Superdesk as a headless CMS. When Superdesk is configured for multiple languages, Publisher will add a language code to content in the output stage. This allows you to use language as a criterion for publishing rules as well as generating automatic content lists.
Those are the highlight features of Superdesk Publisher 2.1. The release also contains a variety of smaller fixes and improvements which you can read about in the changelog, here.
Want to know more about how Superdesk Publisher can increase your digital publishing success? Sign up for a free demo today.