Superdesk Publisher 1.3 Release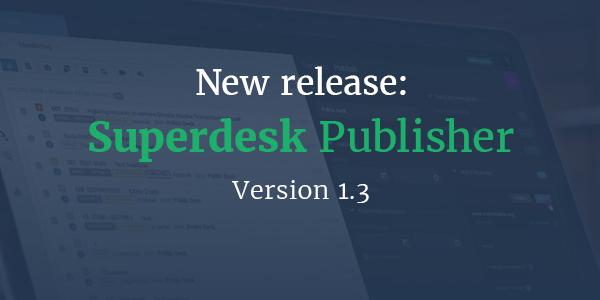 Superdesk Publisher 1.3, a digital publishing solution that allows users to manage and monitor multiple websites from one place, has just been released.
Highlights include:
Easy theme installation and customisation
New author bios
Tools to promote most-read articles
Instant add-ons
Intelligent automatic publishing
Theme customisation.
This feature allows editors to set up a website with a few clicks. There are two solutions available: one for a developer, to create and upload a theme of their own, and another for a non-tech user, who can take an existing theme and modify attributes such as fonts, colours and furniture graphics.
Theme selection or theme upload, and installation
Author bios.
Superdesk Publisher now allows you to link the bylines of your writers and contributors to their biographical profiles and portfolios of their work. Such mini-bios are also a useful way to introduce new writers to your readers.
Author profile in superdesk
Author profile on Publisher-powered website
Article ranking.
Publisher 1.3 tracks content performance and allows you to display trending articles to site visitors. Internally, publishers can now customise their views of analytics and display audience data by defined date-ranges.  
Instant add-ons.
Publisher 1.3 allows editors to prime an array of content widgets ready to be switched on in response to breaking news or special events. No need to swap out your templates or create new ones - editors can add these presentation elements to pages via a switch in the UI. Simple.
Intelligent automatic publishing.
Superdesk Publisher has handled sophisticated rules-based publishing from the word go, powered by industry-standard metadata schemas. But we have now refined this further to allow for the same content items to be published in different ways depending on site context. For instance, an article output from production to my suite of websites might end up in a prominent home-page slot in one publication, yet be featured as only a minor item on other sites I publish because each caters to a distinct audience.