Plan for Success with the Superdesk Planning Component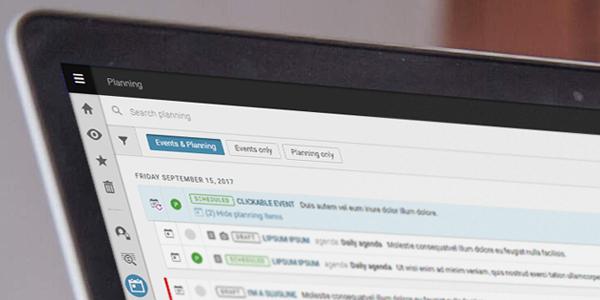 In a 24/7 news cycle that moves faster every day, the ability to plan news coverage becomes a strategic advantage. Planning isn't just a matter of being more organised; it allows today's lean news organisations to allocate scarce resources to the news and content that matter most.
While some breaking news events happen unexpectedly, many others are scheduled in advance and can be planned for. Examples range from the release of government statistics and corporate earnings reports to public holidays and seasonal festivals, along with product releases and celebrity appearances at film premieres and awards shows.
We are creating the Superdesk Planning Component to give news organisations a more holistic and efficient way to incorporate editorial planning into their workflows. Using targeted elements of newsroom automation, editors can ingest and manage events, create planning items within an agenda, and link news coverage to these items.
The benefits of an integrated editorial forward planning tool
To ensure that the Superdesk Planning Component would be relevant to real-world newsrooms, we set up the project as a joint effort with our news agency partners Australian Associated Press (AAP), NTB, the news agency of Norway, and STT, the news agency of Finland.
In early discussions, we learned that the key benefits of this new editorial planning tool should include:
Efficiency: provide editors a streamlined way of planning event coverage, with as few steps as possible

Automation: publish event calendars and agendas automatically

Integration: connect easily to third-party applications and publishing platforms through APIs or other services

Flexibility: integrate natively with Superdesk or implement as a standalone application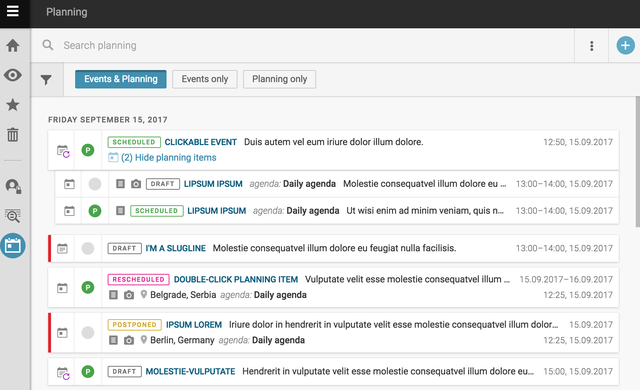 Features and functions of the Superdesk Planning Component
Import and export event data
This feature of the Superdesk Planning Component supports the most common delivery mechanisms and data formats used by specialized event data providers that serve news agencies. Newsrooms can also provide their own event data to other customers using these same formats.
Planning API
Incorporating a RESTful API means that the Superdesk Planning Component can be used to build applications that output event and news coverage information.
Create and manage events as native content
Newsrooms can create and manage their own events, using the metadata fields defined by the NewsML standard for all the important elements of a news event (who, what, where and when).
Manage planning
Editors can plan news coverage by creating events, planning items, defining coverage activities and assigning those to desks or journalists. As this process goes on, a database of events is created automatically. This information can then be offered to customers as an additional product or service.
An integrated solution
While the Planning Component is part of Superdesk, it can also be modified to be used as a standalone application.
Editors can define coverages for planning items in the database including output and schedule. Reporters in the newsroom can see the tasks associated with the item and the desks it has been assigned to.
Finally, the content that is created for an event includes the event metadata, which saves time as journalists do not have to fill in the metadata themselves. Also the event metadata creates more possibilities for the news agency to build content packages with events.
What can Superdesk do for your newsroom? Ask for a demo today.