What's New in Superdesk: March 2018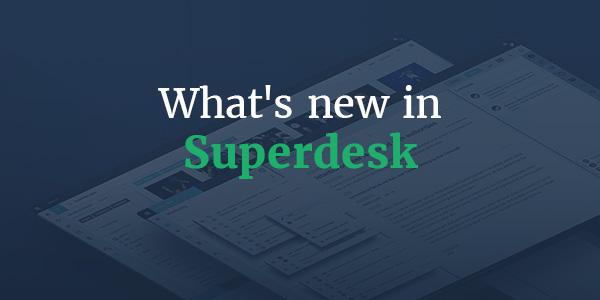 With the start of the year, we have gained momentum on our development sprints, adding new features to our headless CMS, Superdesk, as well as refining a number of existing ones. Here are four of the features making the latest version of Superdesk the best newsroom software we have made so far.
Discuss revisions as you go
Similar to the commenting function in Microsoft Word or Google Docs, we have enabled a commenting feature for content being edited in Superdesk. With our version of in-line comments, you highlight text in an article, click on the comment icon in the editor and enter your question or concern. The text is then highlighted. When you click on it, you see the comment in a text box that also allows you to follow up by taking one of three actions: edit, delete or resolve. You can also tag other users.
Add more context to stories
To provide background information or other kinds of additional information in stories, a newsroom can add annotations. Currently there are three types of annotations in Superdesk: footnotes, jargon busters, and notes on the margin. But these are flexible: a newsroom could choose to use one, several or name them differently. Annotations work similarly to in-line comments: an editor highlights text in the Superdesk editor, selects the annotation type and enters the information. This is useful in situations where journalists want to provide additional information to their articles, such as a person's biography or the background of a certain development in the news. Rather than sending readers to another website via a link, the journalist can add a note that shows this information on the same page as the story, keeping readers engaged longer on the news outlet's own website.
Create galleries of photos or videos
In the first version of Content / Metadata Fields management it was possible to add only one media item (such as a photo, graphic or a video) to a custom media field. We have enhanced this feature to support multiple items. This means that journalists can now easily build multimedia galleries for their stories -- or as separate content items -- using custom media fields.
Run the numbers - faster
By adding word and character count information to the Content Delivery API on the back end, front-end systems have less work to do to recalculate these numbers themselves.
Want to stay up to date on the latest developments in Superdesk? Subscribe to our newsletter.