Setting the Agenda: How the AAP Helps Clients Plan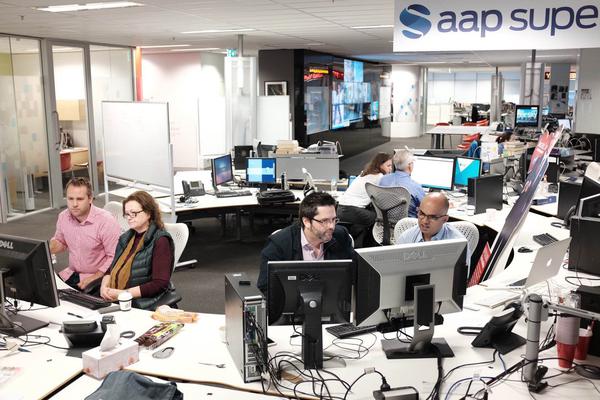 For any major news agency, keeping newspapers and other wire-service subscribers abreast of coverage plans is a key part of doing business. Every day in cities around the world, news agencies report on an endless stream of meetings, conferences, ceremonies and announcements, yielding a digital tidal wave of content. But with so much publishable material to choose from, how can agency subscribers – the media delivering agency stories to the public – stay ahead of the news and ahead of the competition?
Historically, news agencies have relied on a variety of tools to keep client newsrooms in the know, but these have not always been user friendly. For instance, poring over an agency's email blast or picking over an online calendar takes time that many editors simply don't have. And, as often happens, a story planned in the morning might be "spiked" by noon, creating a complicated trail of agency updates.
To tackle these editorial planning challenges, Sourcefabric and the Australian Associated Press (AAP) teamed up to deliver a more functional solution. The product, called Agenda, recently went live.
To understand what Agenda delivers, why it was created, and how it stacks up against other agency planning tools, we reached out to AAP Technical Analyst Michael Gourlay for his take on the news agency's latest client offering.
Help us understand what Agenda is, why it was built, and what it delivers that your older, legacy planning tool did not.
It is difficult to talk about Agenda in isolation from both Superdesk Planning Management and Superdesk Planning Workflow, as the three elements were designed to work together from the early development stage. Between them they form an end-to-end mechanism for planning, execution and delivery of news coverage.
The old Agenda website at AAP (commissioned sometime in 2013) was a stand-alone, manually curated environment, with no direct links to editorial production, very limited planning functionality, and no mechanism to either dynamically publicise coverage plans or to track and advertise content availability.
The new Agenda is directly integrated with both Superdesk Planning and Superdesk production workflow. It is able to provide real time tracking of coverage planning and availability – including the tracking of content updates – and offers improved sorting, filtering, following and search tools, as well as providing a direct link between promised coverage and published content as it becomes available. As a component of AAP Newsroom (the AAP's Newshub implementation), it sits side-by-side with a fully integrated content-delivery platform.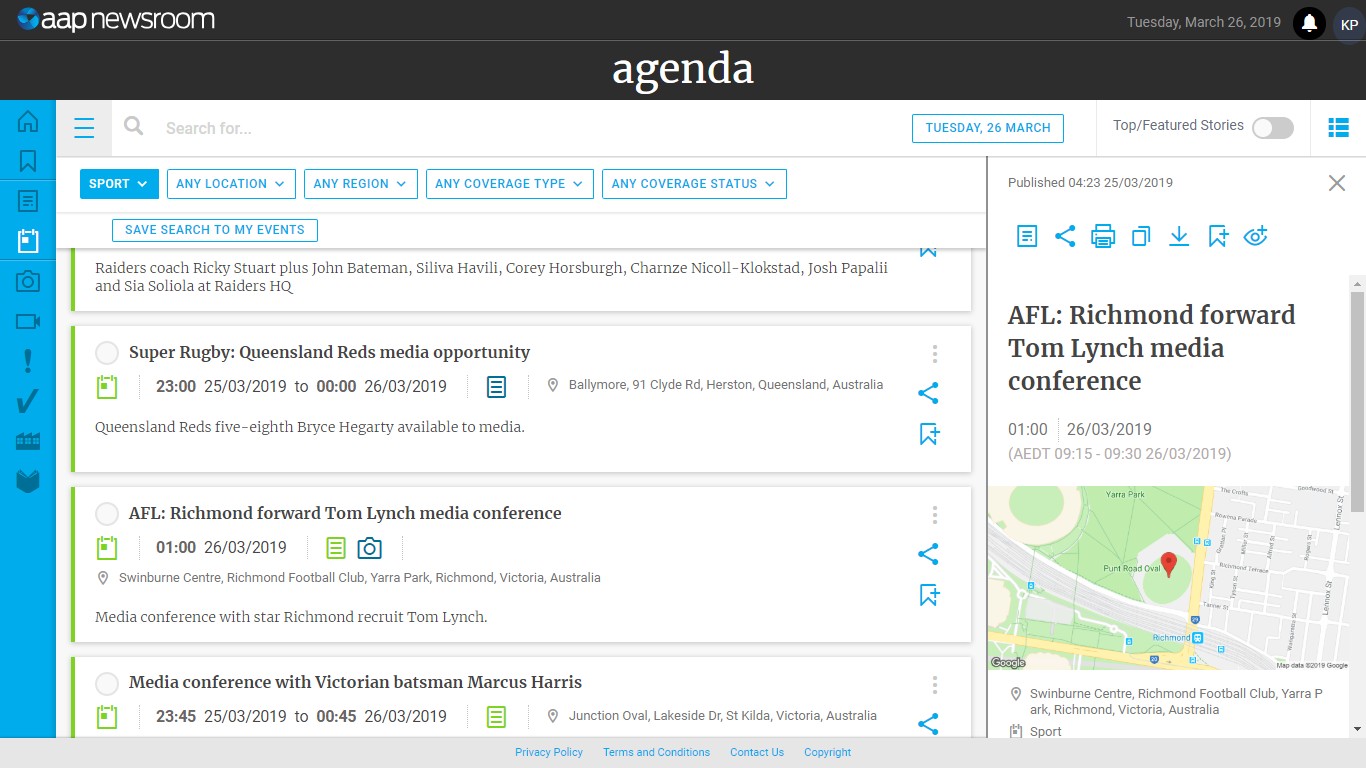 Can you talk a bit more about how Agenda has improved efficiencies, both for editors and journalists at AAP, and for your customers?
We benchmarked our efforts against other planning offerings throughout the development process. We believe we have been successful in incorporating all the most desirable user features, focusing on simplicity, ease of use and general utility. We were also keen to leverage the usefulness of the product as an event calendar resource as well as a tracking tool for newsrooms interested in AAP news coverage as part of their own planning and production activities.
One of your colleagues previously said that Elasticsearch, a key Superdesk feature, has been critical in allowing AAP's journalists "to interrogate our content" and pull back search results that are highly relevant. How does Elasticsearch interact with Agenda?
Elasticsearch sits behind both view filters and "quick search" in Agenda. A user can choose from metadata facets such as Calendar type, Location, Coverage type and Coverage Status to filter their view into events and coverage. As with Superdesk, Elasticsearch is core to the architecture of Agenda.
Other news agencies have recently taken a similar interest in building out their planning and diary offerings. For instance, Reuters' Connect was launched last year. Any thoughts on the competition?
The Associated Press [in the United States] has been iterating and improving their planning offering (called AP Newsroom) since its inception, and they now also have an event-centric view available. The Reuters Connect offering is also quite interesting.
But generally speaking, are there lots of planning solutions out there, or was Agenda created to fill a gap in the market?
It wasn't that we needed to 'fill a gap'. Rather, we required an application that would tightly integrate with the Planning tools we had already built in Supderdesk. Agenda was just the third piece in the puzzle. I guess that, for Sourcefabric, Agenda is a 'product', but for us, it is just a solution.
What other enhancements are in the pipeline regarding Agenda; what's in the works, and what's planned?
There are some possible further features that have been discussed – such as offering a calendar-grid view into planning – but nothing has been road-mapped for a version 2.0 release as yet. We are still iterating and enhancing the existing product and bedding in/streamlining the editorial workflow practices that underpin the whole undertaking. Facilitating workflow integration is a significant hurdle for every agency that heads down this path.