Digital Newsroom Challenges and Solutions: VoxEurop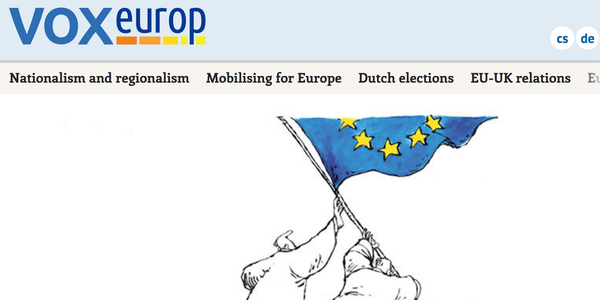 Publishing in 10 languages, VoxEurop is a nonprofit news organisation that aims to serve as a platform for discussing issues related to the EU. It is headquartered in France with a roster of editors, contributors and translators all around Europe.
Making Sure the News Doesn't Get Lost in Translation
"Because we publish the same content in multiple languages, our main challenge is to synchronise this in our CMS," says Gian Paolo Accardo, editor in chief. It is a labour-intensive process. All the content fields of an article, such as the title, subtitle, summary and body text, have to be translated manually.

VoxEurop uses the open-source Pressflow CMS, which is based on Drupal. Editors compose content entirely in Markdown, since VoxEurop only publishes on the web. Here too, translations create their own set of workflows. In the case of internal links, for example, a link in French must send the reader to the French version of an article, while the same link in English must point to the English version. This is also done manually at present, usually by copying and pasting the relevant Markdown formatting.

The newsroom team at VoxEurop wishes it were otherwise. Software that could format (and synchronise) text automatically, along with machine translation of multimedia content, are high on Accardo's wishlist. "One of the reasons we don't do videos is because they have to be translated too, and we don't have the time or resources to translate subtitles," he says.

There is one element of the VoxEurop news service that has been automated in this way, however. The site's commenting feature allows users to translate the comments of other users automatically, courtesy of Google Translate. This means that readers can comment on a story in their own language and also respond to other readers' comments in different languages, all in the same thread. Editors can also select certain comments and add their own inline translation.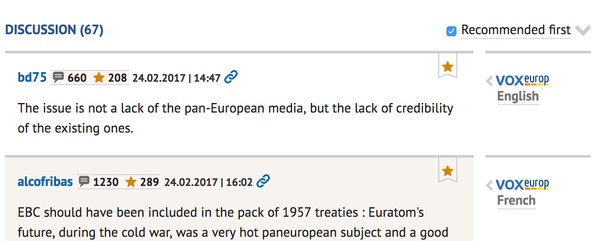 This commenting platform is not just an attractive feature in itself. It's key to supporting VoxEurop's mission of providing a central place for conversation around issues affecting all of Europe, while allowing that conversation to occur in all of Europe's main languages.


Working with Multiple Languages in Superdesk
How would Superdesk work for a multi-lingual newsroom like VoxEurop? This is handled at two different levels: the language of the Superdesk interface itself and the language of the content being created and published.

Currently, the Superdesk interface is available in 15 languages, apart from English. These include Russian, Ukrainian, Norwegian, German and Spanish.

When it comes to translating actual content, Superdesk offers several features that make life easier for editors and translators. Here's how it works:


• Editors select an article to be translated ("translate to") and pick the target language from a list. This action maintains a reference between the original text and the translation in the background.

• By associating a macro with the "translate to" action, the article metadata can be transformed and even do other things such as currency conversions. This type of macro can be run automatically, for example when an article is sent to the translation desk.

• Translators can then open the original article and the translation side-by-side in Multiedit mode, allowing them to work more efficiently.


There are also other newsroom tasks that Superdesk is able to automate. Frequently published articles can easily be turned into templates — complete with formatting — by journalists themselves (no coding required). Searches can be saved and shared with the other members of a desk, or even the entire newsroom. Certain types of content can also be created automatically, on a schedule, for a specific time each day or week.

Those are just some of the ways that Superdesk speaks "news", no matter what language a newsroom works or publishes in.
Find out what Superdesk can do for you.