Digital Newsroom Challenges and Solutions: NTB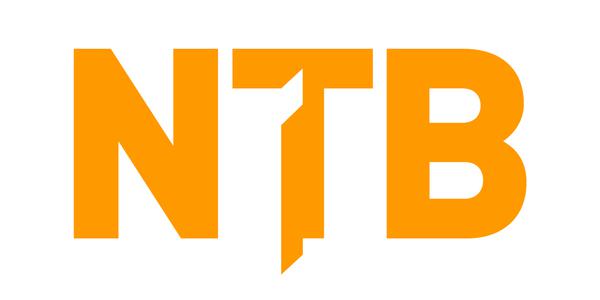 NTB is Norway's largest news provider. With a network of 120 staff, it delivers hundreds of stories 365 days a year. Its NTB scanpix division has a database of more than 80 million photos, videos and infographics.
A Brighter Picture for Working with Images and Videos
While scanpix is part of NTB, it had never been a part of its editorial system. That created a cumbersome workflow for adding images to news stories. Editors needed to keep two windows open (often switching between two desktop monitors) in order to find the image or video on the scanpix website and then drag and drop it into the newsroom CMS used for writing and editing article text.
When NTB implemented Superdesk as its newsroom software in 2016, project leaders saw an opportunity to change this for the better. Integrating scanpix into the same editorial environment became part of the project scope.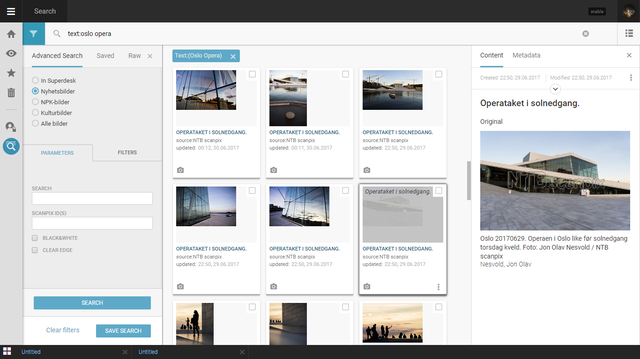 "It wasn't just a matter of connecting APIs," says Karel Petrak, the project manager from Sourcefabric who led the implementation. "We had to refactor both the search and image handling Superdesk components to make sure the images being output would show up in the correct format, with their associated IDs to follow the business logic behind scanpix."
NTB editors can now search in the scanpix database without leaving Superdesk. Once they find the image they're looking for, they can drag and drop the pictures right into their text. That constitutes a major improvement in itself. Another benefit of the new Superdesk-based news content management system is that it allows editors to place images in articles in their context rather than just attaching them to the story (similar to an email).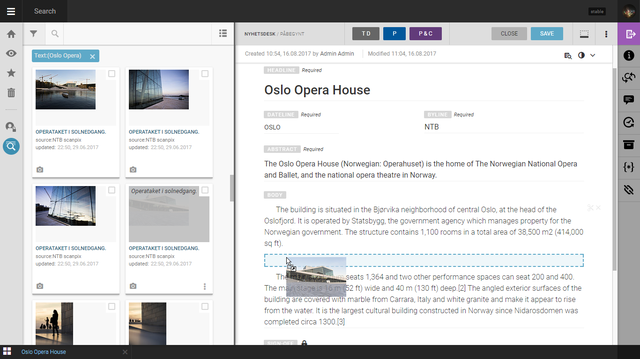 "This compact solution is a great benefit, especially for reporters in the field," says Helen Vogt, head of innovations at NTB. "Desk editors have access to several large screens and can work quite easily with different browser windows. But reporters typically rely on a small laptop screen, and need access to everything in one place."
Better Integration and More Efficient Workflows

Every user can also create a saved search in the scanpix database, add it as a widget to her personal or desk dashboard to see newly added photos or videos matching the search criteria. This is really helpful when the newsroom covers a specific event like elections or football championship. Instead of repeatedly searching and checking for new content they can just keep an eye on the widget and once the photos are there, they show up in the widget and can be used right away.
"Saving time and effort is valuable to any newsroom, but even more importantly: In choosing Superdesk we saw the potential for future products and services, and full integration with scanpix visual assets is an important part of our product development strategy," says Vogt.
She adds: "As NTB introduces customers to more modern output formats such as the NewsML standard, it will be possible for us to offer content packages with multiple news articles and images related to the same subject - something we know that our customers want."
Find out more about how Superdesk helps news organisations innovate and stay ahead in an ever-changing media landscape. Request a demo today.