Hello journalism, Superdesk is here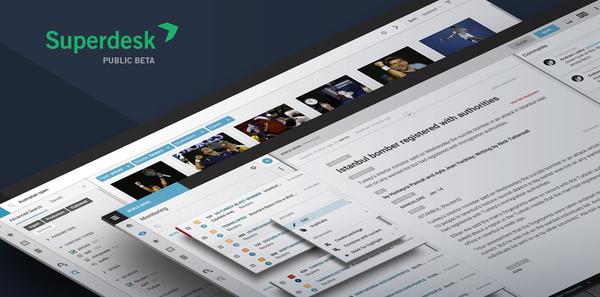 Today we are making the first public release of Superdesk, a milestone that I consider important not only for Sourcefabric but also for the future of journalism.
Superdesk is more than an end-to-end news creation, production, curation, distribution and publishing platform. We at Sourcefabric also see it as the cornerstone of the new common open source code for quality, professional journalism.
The code itself has been available all along on GitHub, but this is the first time we are making an official release. It is a result of almost three years of development in partnership with Australian Associated Press as well as with Norsk Telegrambyrå and other news media partners. 
Why has it taken us so long to make this first public beta? The basic answer is that we have been too busy iterating concepts with our partners and finding the basic set of features that would be sufficient to set up and run a fast-paced, nonstop, complex journalistic operation.
Out of the box, the Superdesk we present to you today is primarily ready to run a continuous news service, such as those operated by our news-agency partners. It is labeled as beta, meaning that it still has a few quirks here and there (view our issue tracker) and that it still not as easy to set up for the uninitiated as we would like it to be (our end-user manual PDF is also in beta).
Once you get to kick its tires, you will see that Superdesk is a slick, sophisticated machine, capable of great things. With some creativity or handholding, you can already use it to drive web publishing (in conjunction with a web content management system) or even print (e.g. by pushing XML files to a print CMS or consuming Superdesk's content API) operations.
Most important of all, you will find out that we have not strayed away from our mantra, built by journalists for journalists. Superdesk is a joy to work with. It is full of little gems chiseled on newsroom floors, from the rapid-fire Publish and Continue feature to the Multi-edit Mode and Saved Searches. You can configure your Workspace to monitor everything you need, see what your colleagues are up to and tap into all the wealth of your sources and archives.
Even the admin bit is very accessible to non-techies. Setting up workflows, desks, content views, ingest sources and users is a breeze. The sysadmin turf begins when you start to deal with the powerful routing, content transformation, controlled-vocabulary management and publishing features, much of it a fruit of many an iteration by our Team Australia.
Today's beta release is just the first step in claiming new ground for open source software in journalism. After the first successful production deployments in Australia and Norway (the process will start in May), we will release the first stable version. Meanwhile, get the beta or one of the release-candidate versions that will follow and think what Superdesk could do for you and vice versa.
To make Superdesk the best it can be, we need your help! This beta release is a great start, but it's going to need some love. We are in need of testers to download the platform and give us feedback on installation, setup and how the system functions. We want to hear it all, the good, the great, the bad and the bugs. You can share all your feedback on the Superdesk forum.