Superdesk 2.5: A Trove of Time-Saving Tweaks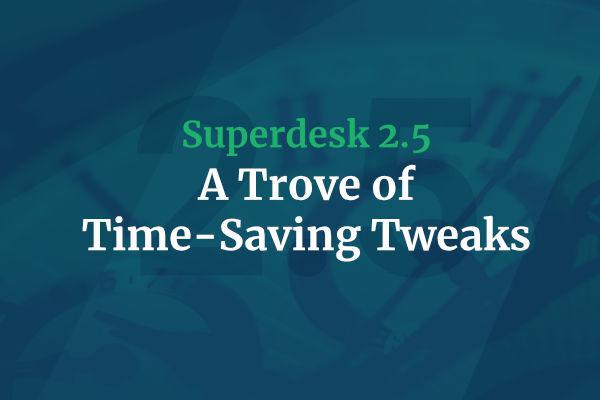 When we first began working on a prototype of Superdesk more than a decade ago, our goal was to use open-source software to improve the efficiency of newsroom operations. Today, that objective still guides every tweak we make to the Superdesk experience, and it underpins the most recent Superdesk release, version 2.5.
Pre-populated templates
Among the biggest time-saving updates in 2.5 is a new template feature that allows editors to pre-populate fields with frequently used text. For instance, users in the financial business might require legal disclaimers on every piece of content they produce, or news organisations might publish the bios of writers with their stories.
With this update, story templates can be pre-loaded with content and configured to be published anywhere in the final article.
Updating metadata files
For those in charge of Superdesk's backend, one of the most time-consuming aspects of older versions was managing controlled vocabularies – the tags used to identify content's "genre," "priority level," "region," and countless other pieces of metadata. In the past, updating these hidden bits of code required scheduling downtime. That need is now gone in Superdesk 2.5. In the "Metadata management" menu, users can now upload and download metadata config files with a simple click.
Bulk de-scheduling for planned publishing
News organisations churning out lots of content often use Superdesk's scheduling feature to set publishing times. In previous versions of Superdesk, de-scheduling was an onerous process that required many clicks. No longer. With the new bulk de-scheduling tool, removing scheduled content from the publishing queue can be done in a matter of seconds.
Load-time indicators
Finally, we've added spinning load-time indicators – wheels that indicate content is on its way – to both the "Assignments" page and the "Publish queue.".
Improving newsroom efficiency through open-source technology has always been our mission, and Superdesk 2.5 is the most efficient open-source newsroom CMS ever designed.
To learn more about Superdesk or to sign up for a free 14-day trial, visit www.superdesk.org.