Introducing Superdesk Publisher 2.0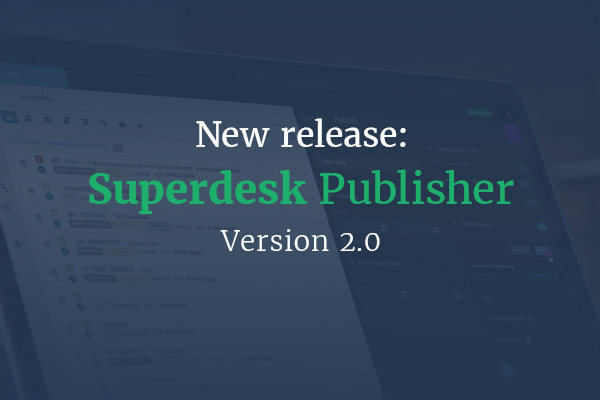 Our 2.0 release is a big step forward for Superdesk Publisher in many areas, with some important upgrades to our tech stack. (This is why we decided to release 2.0 instead of 1.6, after the release of 1.5 last October).
To move Publisher forward, we needed to introduce some backward compatibility (BC) breaks, which means that more manual actions will be required for the update. (These include running database migrations, clearing the doctrine cache and installing certain assets; see our GitHub page for the full details.)
From this release onward, Superdesk Publisher will require PHP version 7.3 and rely on Symfony 4.3 components and bundles. The Symfony update improves performance and security. Our new features also include structural changes to project directories; read more in the BC breaks section at the end.
New features
This release includes a number of improvements that will be appreciated by people both inside and outside your organisation.
A better experience for readers:
oAuth login: Option to login as a reader with Facebook or Google.
Reader settings: When user is logged in, she can save favourite articles or website preferences.
Go to next/previous article in content list: Allow reader to navigate easily to the next article in a list.
WEBP images format support: Publisher automatically converts all article images into modern and smaller WEBP format (developed by Google).
More control and creativity for editors:
Superdesk Related Articles support: Add related articles in Superdesk and display them in Publisher for inclusion on your website.
SEO/Social media metadata defined by authors: Define custom title, description and image for Facebook/Twitter and Google search.
Article images are now hosted directly from CDN (content delivery network): This speeds up things on the front end, as images can be loaded directly from AWS S3, allowing you to handle more users with the same server capacity.
Allow for resource preloading from a template: Publisher 2.0 uses the latest HTTP2/Push techniques for faster website load time.
Greater ease of use for developers and IT staff:
Logs can be pushed to Graylog: Keep all your Publisher logs in one centralised place, independent from deployments and ready for horizontal scaling.
Migrating from the current Angular JS environment, the entire Publisher UI is being rewritten in React. It is nicer, easier and faster now. The first rewritten components are in Content Lists management.
BC breaks
Remove abandoned livesite editing tools — containers, widgets, revisions. (This will speed up things on the front end).
PHP required minimum version is 7.3 now.
PHP-ZMQ was replaced with PHP-AMQP.
Read more in `UPGRADE.md` file.
Looking ahead
Plans for 2.1: We are working now on loading themes from CDN, as this will allow us to scale Publisher horizontally. Support for content annotations is coming, together with internal article linking. We will also continue rewriting the Publisher UI in React.
Interested in what Superdesk Publisher could do for your organisation? Schedule a demo with us today!