Automate News Production with Superdesk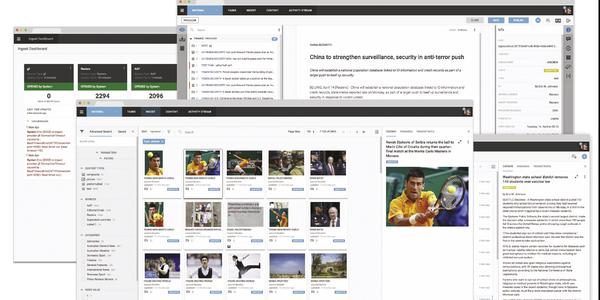 Maximising newsroom productivity is a top-of-mind topic today at news agencies. With editorial headcount declining, more newsroom functions have to be done by fewer people.
The good news is that Superdesk can aggregate and automate multiple mundane newsroom jobs, giving journalists time to focus on more important tasks. Here's how it works.
Use Ingest to automatically create and distribute content
Ingest is the linchpin of automation in Superdesk, and is especially powerful in conjunction with content filters. By setting up filters for ingested content, you can create rules for articles that match certain criteria to bypass the usual workflow and be republished automatically. This would be especially useful for a news organisation with a network of publications. An article could be ingested from website A, selected based on certain criteria and then automatically published on website B, all without anyone in the newsroom having to approve it or process it manually.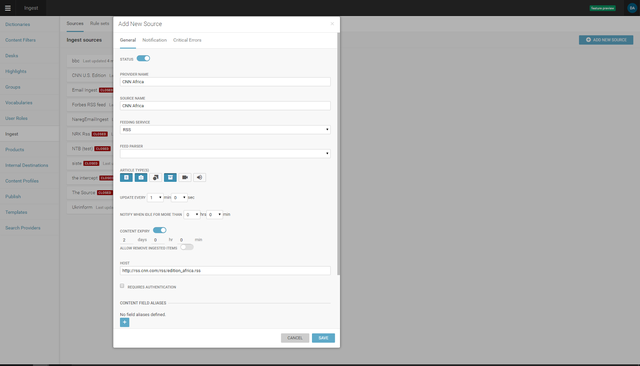 Set up smart monitoring to find stories containing certain keywords
In a similar scenario where there are several Ingest sources, you can set up saved searches to monitor those sources for certain keywords and display the search results in your workspace. When an article contains those words – say "Hubble space telescope" – it will be instantly shown there. If the content is relevant, you can take advantage of another type of automation in Superdesk to create a new article based on it with one doubleclick.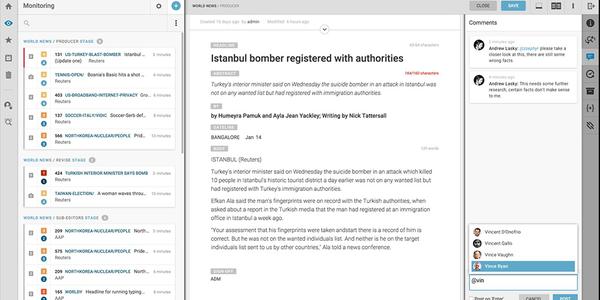 Speed up workflows with article templates
If you've published a similar article in the past about scientific research, you can save that as a template for your new article on findings from the Hubble space telescope. All you have to do is add the new content in the body text and change any relevant metadata, and then you're ready to publish the new story.
Also, article templates can be scheduled to be created on a certain time and day and in a specific desk. This would be relevant for news coverage that is based on events that are repetitive and known in advance, such as daily stock market updates or news bulletins.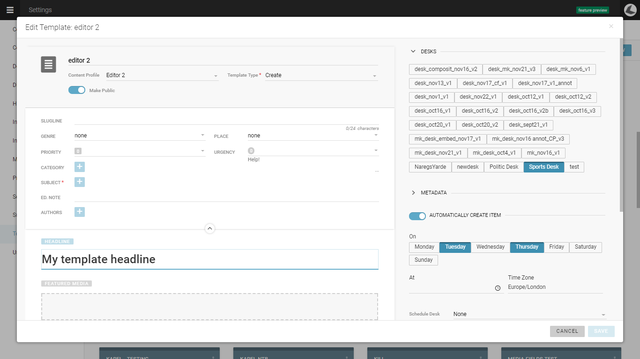 Create shortcuts for translation
In a multilingual newsroom, you can use filters with custom macros to prepare content for translation or other transformations. For example, if you are publishing content in English, you can first define rules based on keywords and an urgency level to identify certain stories that are suitable for translation to other languages. If they meet the keyword criteria, you can apply a translation macro for each language and send them directly to the respective desk for review and post-editing.
Spell checking
Spell-checking functionality is available in Superdesk out of the box. All you have to do is add a dictionary to Superdesk. Dictionaries are simply lists of words in given language in .txt format, one word per line. Once imported into the Superdesk editor, words that are not recognised are underlined in red, with suggestions for correction provided. Newsroom managers can manage global dictionaries for each language and users can do the same with their personal ones.
Use recipes to create news triggers
With third-party tools like Zapier or IFTTT you can set up some basic monitoring rules that live outside Superdesk and can trigger news alerts via email. For example, if NASA published a new photo from the Hubble space telescope, you could set up a rule (recipe) for this to send the notification directly to Superdesk through ingested email. Then in Superdesk itself, you could route the message to the science or news desk as above.
Want to know more about what Superdesk can do for your newsroom? Request a demo today.